A Guide to the Best Fence Repair Solutions in Plano, Texas
Look for Experience and Expertise: When selecting a fence repair company, look for a team with experience and expertise in fence repair solutions. An experienced company will have the skills and knowledge to repair your fence effectively.
Check References and Reviews: Before hiring a fence repair company, ask for references and check online reviews. This will give you an idea of the company's reputation and the quality of work they provide.
Compare Quotes: Get quotes from three fence repair companies to compare prices and services. This will help you find a company that offers reasonable rates while providing quality repair work.
Check for Insurance: Ensure that the fence repair company you select is insured. This will protect you in case of any accidents or damages during the repair process.
Get a Written Contract: Always get a written contract before work begins. This will ensure that you have a clear understanding of the scope of work, the timeline, and the cost.
Check for Permits: In Plano, Texas, permits are required for fence repairs in certain circumstances. Ensure that your fence repair company has the necessary permits to avoid any legal issues.
Check for Warranty: Find out if the fence repair company offers a warranty on their work. A warranty will give you peace of mind knowing that the repair work is guaranteed.
Look for Environmentally Friendly Options: If you're environmentally conscious, look for fence repair solutions that are eco-friendly. This could include using sustainable materials or repurposing old fence materials.
Consider Maintenance: After the fence repair is complete, consider regular maintenance to keep your fence in good condition. Ask the Fence Makeovers  team for tips on maintaining your fence.
Ask for Recommendations: Ask your friends and family for recommendations for fence repair companies in Plano, Texas. They may have worked with a reliable and trustworthy company before. Fence Makeovers has been serving Plano and the surrounding cities for 20 years!
Expert Tips for Finding the Best Fence Repair Solutions in Plano, Texas
Assess the Damage and Determine the Best Course of Action.
The first step in finding the best fence repair solution is to assess the damage. Is it a small hole or a major structural issue? Once you have determined the extent of the damage, you can then decide on the best course of action.
For minor damage, a simple replacement of a few boards may be all that is needed. However, for more extensive damage, it may be necessary to replace the entire fence or hire a professional fence company like Fence Makeovers.
What Kinds of Fence Repair Services are Available in Plano, Texas?
If you live in Plano, Texas, and need help with fence repair, you have come to the right place. From replacing broken boards to repairing damaged posts and even installing brand new fences, there is a solution for everyone. Fence Makeovers Estimators will discuss some of these fence repair solutions with you at your conveniently scheduled appointment.
Call and make an appointment with one of our estimators to get a Free written estimate today.
The Benefits of Professional Fence Repair Solutions in Plano, TX
Fence repair can be a costly and time-consuming task. Professional fence repair solutions in Plano, TX offer a cost-effective way to keep your fence looking great and functioning properly. Not only are these services more affordable than replacement, but they also provide peace of mind that your fence is safe and secure.
Professional fence repair solutions in Plano, TX can save you time, money, and hassle while ensuring that your fence is repaired correctly the first time. With our expertise, you can be sure that your fence will last for years to come and remain secure against the crazy North Texas weather conditions.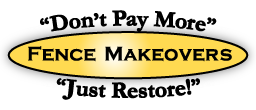 The Top Fence Repair Companies in Plano – Things To Consider

Research and Compare
Are you looking for the best fence repair companies in Plano? You're in luck!  Fence Makeovers has been in the Plano and surrounding areas for 20 years! Although we are not a perfect 5 star company we do listen to our customers and return if we missed something or just want someone to look at the finished work. Our goal is happy customers that love how their fence went from grey to "Looking like New!"
You can also ask for recommendations from friends and family who have had fence repairs done in the past. Once you have a list of potential companies, compare their prices, services, and warranties to find the best fit for your needs and budget.
Don't be afraid to ask for references or examples of their previous work to ensure you are getting the best quality service.
To find the best fence repair solutions in Plano, Texas 
Have a strong reputation
Ask for references 
Don't be afraid to ask questions
Does the fence company answer the phone?
Does the fence company return afterhours calls?
krisaverbeck
Addressing Your North Dallas Fence Repair Needs A sturdy and well-maintained fence can significantly enhance the aesthetic appeal and security of your property. However, over time, even the most durable fences [...]
krisaverbeck
Dealing with Fence Stain Overspray on Your A/C Unit: What Should You Do? Start by carefully covering the sensitive parts of the A/C unit, such as the vents and delicate components, [...]
krisaverbeck
Regular Fence Maintenance On A Wood Fence Is Important Top 5 Reasons: Preservation of Appearance: Proper maintenance helps preserve the aesthetic appeal of the fence, preventing [...]