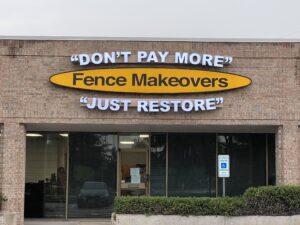 New Fence Installation for
Residential Homes in the Dallas area
Have a residential home looking for a new fence installation or repair in the Dallas Area?
Fence Makeovers is located at 701 E. Plano Parkway, Ste 404, Plano Texas 75074. The Plano showroom offers help for the homeowner to decide what type of new fence they are looking for as well as the custom colors to stain the fence.  The Fence Showroom is open Mon-Fri 9:00 am to 5:00 pm. We do close for lunch from 12:00 pm – 1:00 pm.
Residential wood fences are the specialty of Fence Makeovers. Among the best choice is Cedar Wood instead of Pine for longevity. However, we can use treated pine to build the fence as well. In fact, each fence is custom-built to your specifications. In addition, the Homeowner will receive a computer-generated rendering of the fence repair or new fence by one of our friendly estimators.
The top five reasons to have a rendering available for a new fence installation:
HOA – This rendering can be submitted to the HOA (Home Owners Association) for approval
This rendering may be used to share with other family members
The original rendering may need to be adjusted
The rendering will show the property lines
In the rendering it will show the backyard – where the pool is, where the playset is located, and/or where the patio is.
Look at some of the options for building a fence below.  An overview of fence styles is listed below. New fence installation or fence repair questions may be directed to our experienced estimators.  Having built many new fences and done multiple repairs with over 10 years of experience, our estimators will offer several options for the homeowner to think about.
Fence Makeovers New Fence Styles and Opportunities
Wood Type Cedar or Pine
Post – Wood or Metal
Picket Style – Side by Side, Board on Board or Horizontal Style
Height – 6' or 8'
Accessories – Trim, Cap, and Kickboard
Custom Walk-thru Gates
We provide whatever the homeowner wants to have replaced or repaired. Installing a new fence is not always necessary however if it is time to replace it Call us Today for a Free Estimate! Need a Second Opinion? In spite of the other fence companies giving a crazy high bid on a new fence. Our estimators will offer solutions.
To sum it up, Fence Makeovers has experienced estimators to offer a Free estimate when considering a full fence replacement or a simple small repair. Sometimes just a second opinion lends some help with unanswered question by another fence company. Fence Makeovers is happy to help with anew fence installation or a fence repair.

What Does a New Fence Installation Cost?
A fence installation cost will vary depending on the length of the fence, what type of fence the homeowner will want installed i.e. pine, cedar, board on board, horizontal etc.
The best option is to schedule an appointment with a reputable fence company to send a fence installation cost estimator out to the property. They will usually give you a written estimate (if they don't run!!!). This estimate will give you a breakdown of exactly what is going to be replaced, where on the property and if it is a shared fence recommendations on how to share the costs without a fight between neighbors.
Fence Restoration Showroom Located in Richardson TX
When it comes to restoring your fence, Fence Makeovers has a showroom to visit in Richardson, TX. Easy to find on the service road in Richardson, TX between Beltline Rd and Arapaho Rd on the east side of highway 75. Our office hours are Monday – Friday 9:00 am to 5:00 pm. We are closed from 12:00 pm – 1:00 pm for lunch.
In our showroom you can see the custom fence stain we have as well as gate hardware, corbel's for the fence and different designs available for a new fence installation. We look forward to meeting you and restoring your old fence or installing a new fence on your property.
An A+ rating with the BBB since 2005. We love our customers and want to make sure when you are happy we are happy!
If your looking for fence installation near me, our service areas are in Plano, Richardson, Allen, McKinney, Frisco and surrounding areas!