Pros & Cons
DIY vs Professional Fence Repairs
DIY and professional fence repairs both have their own advantages and disadvantages. it's important to weigh your options carefully before making a decision.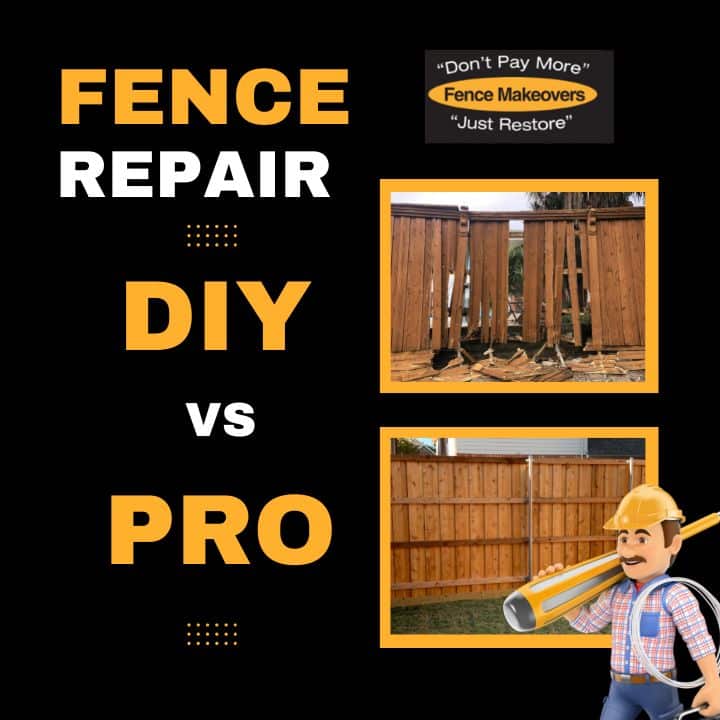 DIY Fence Repairs: The Pros
Cost-effective: DIY fence repairs can save you money on labor costs since you're doing the work yourself. What is your time worth?
Flexibility: You can work on the fence repair at your own pace and on your own schedule. Could take days several weekends of your time.
Satisfaction: Completing a DIY fence repair project can give you a sense of accomplishment and pride. It always feels great when you complete a repair project and the wife no longer nags you about it!
DIY Fence Repairs: The Cons
Lack of expertise: If you're not experienced with fence repairs, you may make mistakes that could end up causing more damage or safety issues. As well as hurting yourself!
Time-consuming: DIY fence repairs can take longer than a professional job, especially if you're new to fence repair. How much time do you really have to make the repair?
Limited tools and equipment: You may not have all the tools and equipment necessary to make certain types of fence repairs. Yes it's a great excuse to buy more tools….however does your budget allow for more expensive tools?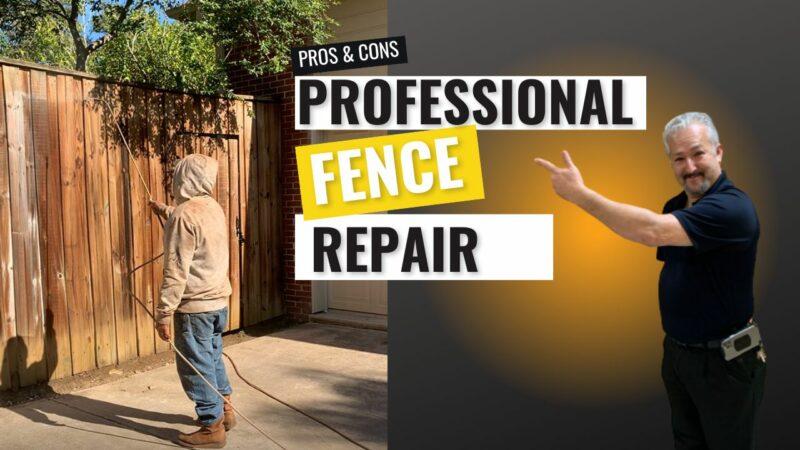 Professional Fence Repairs: The Pros
Expertise: Professional fence repair contractors have the necessary experience and expertise to handle a wide range of fence repairs, ensuring that the job is done correctly.
Time-efficient: Professional fence repair contractors can often complete the job faster than a DIY project, especially if they have a team working on it.
Safety: Professional fence repair contractors know how to handle fence repairs safely, reducing the risk of injury or further damage to the fence.
Professional Fence Repairs: The Cons
Cost: Professional fence repair services can be more expensive than DIY repairs, especially if the damage is minor.
Scheduling: You'll need to coordinate with the fence repair company to find a time that works for both of you.
Lack of control: You may have less control over the repair process if you hire a professional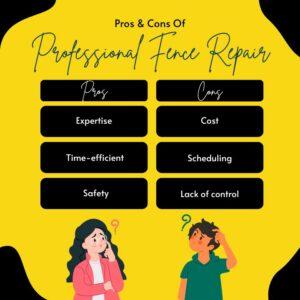 How Much Does A Professional Fence Repair Cost In The Dallas Area?
The cost of a professional fence repair in Dallas area can vary depending on several factors, such as the type of fence, the extent of the damage, and the materials needed for the repair. On average, homeowners in the Dallas area can expect to pay anywhere from $500 to $1000 for fence repair.
For example, minor repairs such as fixing a loose board or replacing a broken picket may cost between $500 to $700. However, more extensive repairs such as replacing a section of the fence or repairing structural damage can cost up to $1,500 or more.
It's important to note that these prices are just estimates, and the actual cost of fence repair in the Dallas area may vary based on individual circumstances. To get a more accurate estimate, it's recommended that you reach out to a local fence repair company like Fence Makeovers for a Free Estimate

Fence Makeovers has a A+ rating with the BBB of Dallas since 2005!  Customers are important to us and we will Always answer our phone and come back out to the customers home to make sure everything was done to the homeowners satisfaction.
krisaverbeck
Addressing Your North Dallas Fence Repair Needs A sturdy and well-maintained fence can significantly enhance the aesthetic appeal and security of your property. However, over time, even the most durable fences [...]
krisaverbeck
Dealing with Fence Stain Overspray on Your A/C Unit: What Should You Do? Start by carefully covering the sensitive parts of the A/C unit, such as the vents and delicate components, [...]
krisaverbeck
Regular Fence Maintenance On A Wood Fence Is Important Top 5 Reasons: Preservation of Appearance: Proper maintenance helps preserve the aesthetic appeal of the fence, preventing [...]