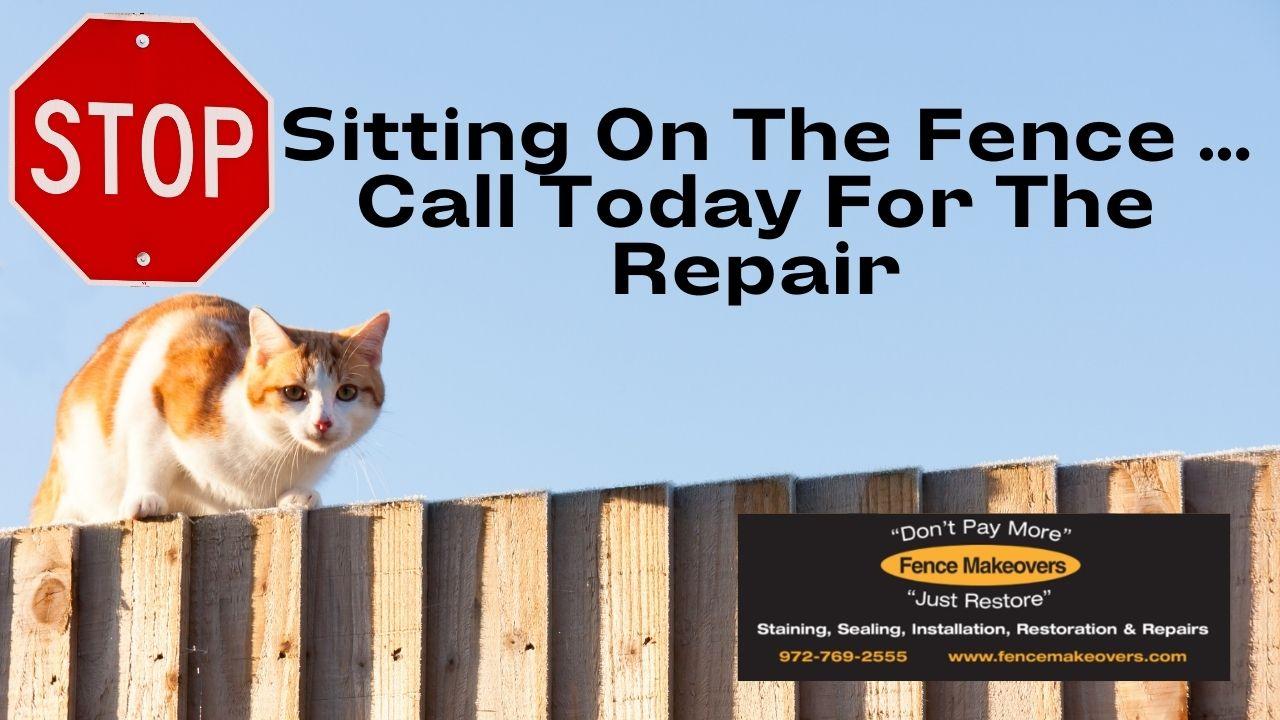 Your Fence Needs A Repair –
Stop Sitting On The Fence – Call Today For The Repair!
As you look around the yard and see the things that have been neglected, the fence tends to be one of those projects no one wants to do. Keeping the fence in tip top condition really is not hard when the small repairs need to be addressed.  The problem is the homeowner does not pay attention to those small repairs.  The comments are usually "I'll get to that next weekend.", or "Yes Dear, I know that needs my attention to repair", yet next week, next month, and next year soon arrive. Has the small fence repair been done? Probably not as "other" things tend to take priority.
Now Stop sitting on the fence – Call Today for the repair because if you don't, that small repair has now turned into a large repair! Is saving money important to your family? Every time we ask that question to the homeowners their answer is always yes, however why don't they follow thorough with the repair? Most fence repair costs usually run under $1000 by waiting fence boards could rot thorough, fence posts may lean or break off, missing fence pickets come off the fence and so many other problems arise.
When was the last time a professional fence company came out to inspect the fence?
If the answer is Never or since we moved in and it's been 5-10 years then it's time.  Fall time is one of the best times of year to have a professional fence company to walk the fence with the customer. Our estimators have over 10 years of experience and may see some areas that need immediate attention.  Waiting will only create a higher cost for the repair because more will need to be done.
Our estimators work for Fence Makeovers and we never contract any of our business out to someone who doesn't know fences. This is our specialty and been repairing fences for over   years. We have seen a lot over the years as well as have the same crews for over 10 years.
Don't put it off any longer Stop what your doing and set an appointment to have an estimator come out to your home.

Please click on the phone number about to call us directly during regular business hours or fill out the form below for an appointment.  Our office will contact you within 24-48 hours.
Our fence services include Richardson, McKinney, Plano and Frisco. Check out our services page to see the city you live in!
krisaverbeck
Our Cedar Fence Company is your trusted partner in crafting exquisite, long-lasting fencing solutions that combine the natural beauty of cedar wood. With over 20 years of expertise and a commitment to quality, we [...]
krisaverbeck
Is Fence Repair Covered by Insurance? Exploring Your Options Homeownership comes with its fair share of responsibilities and challenges, and one of those challenges can be maintaining the various components of your property, [...]
krisaverbeck
Protecting Your Wood Fence: How to Deal with Hail Damage In Dallas TX Have you ever wondered how to protect your wood fence from hail damage and preserve its beauty? Hailstorms [...]