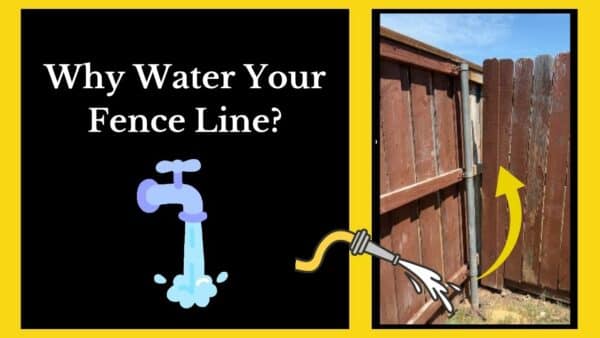 In the North Dallas Area we have not received much rain causing the ground to crack. These cracks can create a lot of problems for the fence post whether they are wood or metal posts.
The problem is when there are big cracks in the clay soil from no water it moves and lifts the fence posts because the dirt holds them in place. Many fence posts have been improperly installed.
Fence posts should be at least 2′ below ground and most maybe around 1′.
When the fence posts have dirt cracking around them they will start to lean. When that happens the farther they lean it puts a lot of stress on the rest of the fence.
Two things can happen:
A big wind storm can potentially blow it over costing $$$
Costly repairs to straightened it back out.
Water the fence line and posts with a soaker hose in the DFW area. Just like you water the foundation with a soaker hose. Need help? Contact us for Free Estimate
Click on the video or this link to see the damage no watering can do to your fence line!
Revitalize Your Lawn – Water The Fence Line Two Times A Week
Watering your fence line in Plano, TX, is crucial to maintaining the longevity and stability of your fencing while ensuring a thriving landscape. Plano's hot and often arid climate can be challenging for both your fences and surrounding vegetation. Regular watering not only helps prevent dry and cracked wooden fences, cracks in the soil but also keeps the soil moist, reducing the risk of erosion.
A well-maintained fence line contributes to the overall aesthetic appeal of your property, enhancing its curb appeal. Preventing a leaning fence by watering the fence line could potentially save the homeowner thousands of dollars in repairs.  So, with Plano's climate, watering your fence line is a wise and beneficial practice.
krisaverbeck
Our Cedar Fence Company is your trusted partner in crafting exquisite, long-lasting fencing solutions that combine the natural beauty of cedar wood. With over 20 years of expertise and a commitment to quality, we [...]
krisaverbeck
Is Fence Repair Covered by Insurance? Exploring Your Options Homeownership comes with its fair share of responsibilities and challenges, and one of those challenges can be maintaining the various components of your property, [...]
krisaverbeck
Protecting Your Wood Fence: How to Deal with Hail Damage In Dallas TX Have you ever wondered how to protect your wood fence from hail damage and preserve its beauty? Hailstorms [...]