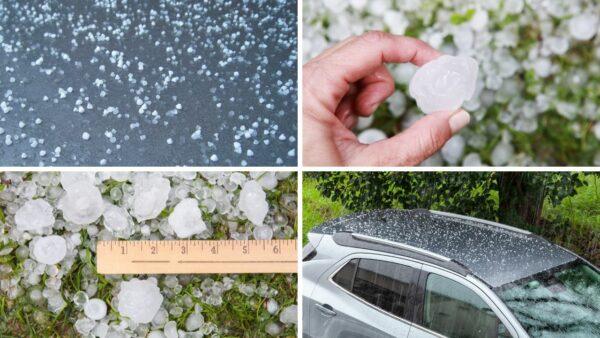 Protecting Your Wood Fence: How to Deal with Hail Damage In Dallas TX
Have you ever wondered how to protect your wood fence from hail damage and preserve its beauty? Hailstorms can be a nightmare for homeowners, especially those with wooden fences. The impact of hailstones can cause unsightly dents, cracks, and even breakages, leaving your once beautiful fence looking worn and damaged. But fear not!  We will explore the best ways to deal with hail damage and provide you with valuable tips to preserve the beauty of your wood fence.
From preventative measures before a storm to effective repair techniques and maintenance strategies, we've got you covered. Whether you're a proud homeowner or a business owner looking to maintain the curb appeal of your property, this guide will equip you with the knowledge and tools to keep your wood fence looking its best, no matter the weather.
So let's dive in and discover how to protect your wood fence from hail damage and enjoy its beauty for years to come!
Understanding the Impact of Hail Damage on Wood Fences
When a hailstorm hits, it's like Mother Nature's version of a pinball machine, with your fence as the unfortunate target. The force of the hailstones hitting the wood can leave behind unsightly dents, cracks, and splintered areas.  Over time, this can weaken the structure of your fence and make it more susceptible to further damage as well as a visually unappealing fence.
Hailstones can vary in size, ranging from small pebbles to golf balls, and even larger in severe cases. The force of impact depends on the size and velocity of the hailstones, which can cause significant damage to the wood fibers. This damage weakens the structural integrity of the fence, making it more susceptible to future storms and wear. Additionally, the repeated impact of hailstones can loosen nails or screws, leading to loose boards and an unstable fence.
To assess the extent of hail damage, it is important to closely inspect your wood fence after a hailstorm. Look for any visible signs of dents, cracks, or splintered areas. Pay attention to any loose boards or nails as well. Identifying the damage early on will allow you to take immediate action and prevent further deterioration.
Identifying Signs of Hail Damage on Your Wood Fence
After a hailstorm, it is important to carefully inspect your wood fence for any signs of damage. Identifying the signs of hail damage is crucial in order to take appropriate action. Here are some common signs to look out for:
Dents: Hailstones can leave behind visible dents on the surface of your wood fence. These dents can vary in size and depth, depending on the severity of the hailstorm. Inspect each board thoroughly to identify any dents.
Cracks: Hailstones can cause cracks in the wood, especially if they are large or traveling at a high velocity. Cracks can weaken the structural integrity of the fence and should be addressed promptly.
Splintering: The impact of hailstones can cause the wood fibers to splinter, resulting in rough edges and potential hazards. Look for any areas where the wood appears to be splintered or rough.
Loose boards or nails: Hailstorms can loosen nails or screws, leading to lose boards or panels. Check for any signs of instability or movement in your fence.
By closely inspecting your wood fence, you can identify the extent of the hail damage and determine the necessary steps for repair and restoration.
Lastly, don't forget to inspect the posts and joints of your fence. Hail can weaken these areas over time, leading to instability and potential structural problems. Give them a gentle shake – if they feel wobbly or loose, it's time to address the hail damage ASAP.
Remember, taking care of hail damage sooner rather than later can help prevent further deterioration and keep your wood fence looking its best for years to come. So keep an eye out for these signs and take action if needed!
Hope this helps you identify any potential hail damage on your wood fence!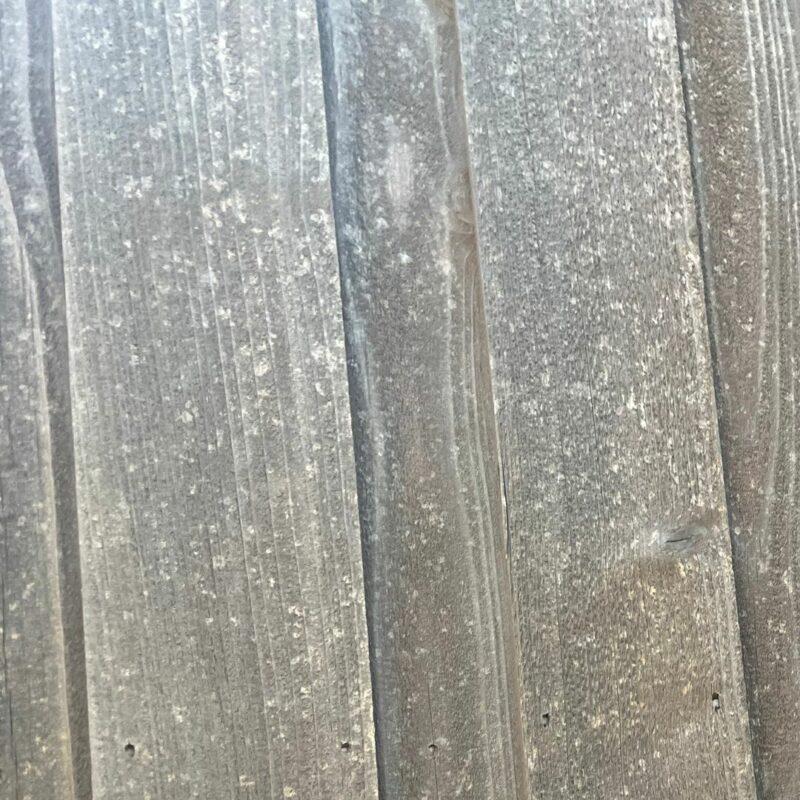 Steps to Take Immediately After a Hailstorm
When a hailstorm passes, it is essential to take immediate action to minimize further damage to your wood fence. Follow these steps to address hail damage effectively:
Safety first: Before inspecting your fence, ensure your safety by waiting for the storm to pass completely. Be cautious of any loose or hanging branches that may pose a risk.
Document the damage: Take photographs or videos of the hail damage for insurance purposes. This documentation will be useful when filing a claim with your insurance company.
Remove debris: Clear any debris, such as fallen branches or leaves, from your fence. This will allow you to assess the damage more accurately.
Temporary repairs: If there are any loose boards or nails, secure them temporarily to prevent further damage. Use screws or nails to reattach loose boards or panels.
Cover vulnerable areas: If your fence has areas with severe damage, consider covering them temporarily with tarps or plastic sheets. This will protect the exposed wood from further deterioration until repairs can be made.
By taking these immediate steps, you can minimize further damage and ensure the safety and stability of your wood fence.
Once you have documented the damage, contact your insurance company to report the hailstorm damage on your fence. They will guide you through their specific claims process and provide instructions on how to proceed.
Lastly, schedule a Free Estimate with a reputable fence repair company like Fence Makeovers as soon as possible. They will assess the extent of the damage and provide you with a written estimate for repairs or replacement if necessary.
Will Hail Damage Go Away After Staining The Wood Fence?
Staining a wood fence after it has sustained hail damage "might" improve its appearance and provide a level of protection against further weathering, but it is unlikely to completely reverse or "make the hail damage go away."
Hail damage typically results in physical impact to the wood, causing dents, cracks, or splinters, which staining cannot fully repair. Staining can help conceal minor imperfections and provide a layer of moisture resistance that might prevent the wood from deteriorating further due to exposure to the elements.
However, for more extensive damage, repairing or replacing the damaged sections of the fence might be necessary to achieve a truly restored and visually appealing result.
The image below is a before and after transparency stain.  The after shows what it looks like with one coat of transparency stain. All you see is a slight color change.  Be aware that a second or third coat will help the marks blend in but they will never go away.  The only way to really see the difference is to stain the fence with a solid stain which is like paint. Once you do that you can never go back with a transparency stain.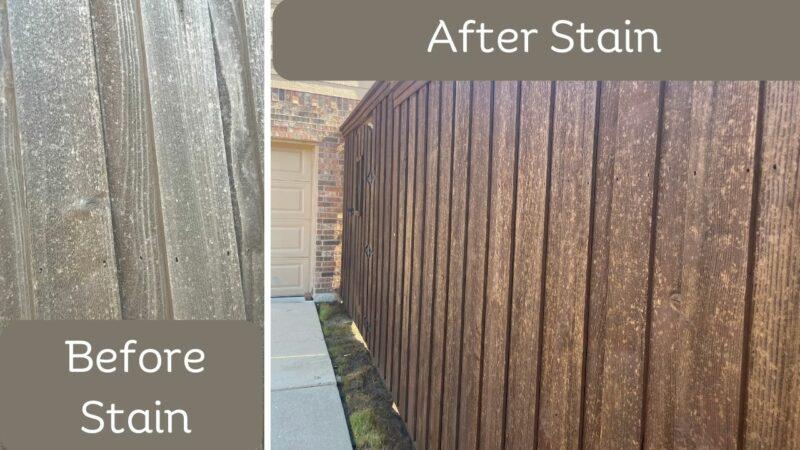 Regular Maintenance to Preserve the Beauty of Your Wood Fence
Regular maintenance is essential to preserve the beauty and longevity of your wood fence. Here are some maintenance tips to keep in mind:
Clean regularly: Remove dirt, debris, and mildew from your fence by cleaning it regularly. Use a mild detergent and a soft brush or sponge to scrub away any stains. DO NOT POWERWASH! This will scar the wood!
Inspect for damage: Conduct regular inspections to identify any signs of damage, such as rot, insect infestation, or loose boards. Address these issues promptly to prevent further deterioration.
Repaint or restain: Over time, the paint or stain on your wood fence may fade or chip. Repaint or restain your fence every 3 – 5 years to protect the wood and maintain its appearance.
Apply a protective finish: Apply a protective finish, such as a clear sealant or water repellent, to your fence every few years. This will enhance its resistance to moisture and prolong its lifespan.
Trim vegetation: Trim any vegetation that comes into contact with your fence, as it can retain moisture and promote rot or insect infestation. Keep a clear space around your fence to allow for proper air circulation.
Remember, regular maintenance is key when it comes to preserving the beauty of your wood fence after hail damage. By following these steps and staying proactive in caring for your fence, you'll be able to enjoy its aesthetic appeal for years to come!
Hiring a Professional for Hail Damage Restoration and Fence Maintenance
When those pesky hailstones wreak havoc on your fence, it's important to have someone with the right expertise to assess the damage and come up with an effective plan for repair. A professional will know exactly what needs to be done to restore your fence back to its former glory.
Not only will they have the skills and experience necessary to fix any hail damage on your fence, but they'll also be able to provide regular maintenance to ensure that it stays in top shape. From repairing broken pickets to reinforcing weak spots, a professional can help extend the lifespan of your fence.
So don't stress about hail damage on your fence – leave it in the hands of a professional who knows how to get the job done right. Your fence will thank you!
Protecting your wood fence from hail damage is essential to maintain its beauty and structural integrity. By understanding the impact of hail damage, identifying the signs, and taking immediate action after a hailstorm, you can minimize further damage and ensure the longevity of your fence.
Whether it's repairing minor hail damage, replacing severely damaged sections, or implementing preventive measures, the tips provided in this article will help you protect your wood fence and enjoy its beauty for years to come. And remember, when in doubt, don't hesitate to seek professional fence company for assistance to ensure the best results.
With proper care and maintenance, your wood fence will continue to enhance the aesthetic appeal of your property and provide privacy and security for many years ahead.